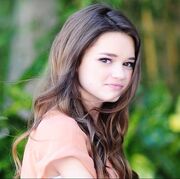 Delilah Roll is a twelve-year-old A.N.T. who attends Webster High. Her big sister is Cat Roll. Her roleplayer is LivvyLove17
Biography
Delilah Bridget Roll was born on January 18, 2000 to Bruno Roll and Seraphina Roll. She had three siblings, Andrew who is 6,Catrina who is 16, and Ron who died when he was 24. Delilah's mom Seraphina was a world-renound celebrity hair stylist and worked for celebrities such as Scarlett Johanson, Kat Dennings, Natalie Portman, Jaimie Alexander, Rene Russo, Gwenyth Paltrow, Emma Stone, Hayley Atwell, Cobie Smulders, Beyonce, Kelly Clarkson, Katy Perry, Lea Michelle, and Jennier Lopez. Delilah learned most of her exceptional skills when she was younger, and came wth her mom to work where she met some very famous stars. Delilah would always watch her mother intently, and learned most of her skills by just watching her mom. By the age of two Delilah could curl hair, straighten hair, do a ballet bun, a fishtail, a french braid, a normal braid, a five stranded braid, a french twist, and numerous other hairstyles. When she was younger, her mother let her work with her since she was good at hairstyling. Delilah would always add an extra little touch like a bow, flower, clip, headband, or a colorful ribbon. When she was 10, she got accepted into the A.N.T. Program. She made a best-friend named Kennedy Cannella.
Early Life
Delilah loved hairstyling ever since she started going to her moms work when she was 2. She would always be helping her mom or practicing all of the styles she could do on Barbie dolls, American girls, Bratz, or Cabbage Patch Kids. When she wasn't helping put with her mom or practicing hairstyling, she would be helping out with her little brother Andrew, who she called Andy. He was a handful, but she could handle him. When she was 8, her mom's old co worker offered her a gig to help out at her hair salon and Delilah accepted. When she was 10, she got accepted into the A.N.T. Program, and there she made two best-friends: Kennedy Cannella and Rose Reed.
Appearence
Delilah has curly shoulder lenghth brown hair that is always perfectly placed, deep brown eyes, and a small face. She is very short for her age and extremely muscular yet skinny. She also has thin pink lips and the sweetest smile you'll ever see!
Alliances
Enemies
None yet!
Schedule
Gallery